During this week of international friendlies and European qualifications, it's nice to see how women's football continues to grow all around the world. It was not a long time ago, just a few days back when England played Germany (1-2) and broke the record audience, 77, 000 people approximately. However, they're not the only ones breaking records this week.
Firstly, The Matildas have defeated Chile 1-0 in Tuesday night's women's football international friendly in Adelaide (Morning if you're in Europe like I am. He, he).
But that's not the main fact: The 20,029-strong attendance at Coopers Stadium was the largest to watch a women's soccer international in Adelaide, especially, after the previous Adelaide benchmark was 5,168, in a 2006 fixture against China, the last time the Matildas played in the South Australian capital.
A small step if you compare it to England's game last weekend at Wembley, however, it is a big step for Australian women football, and more importantly, a big step for women's football in the world.
Yet, the game was very intense until the very end:
Australia's coach Ante Milicic made 4 changes to his starting line-up from last Saturday's 2-1 win in Sydney against Chile. Same as last time, the game was dominated by The Matildas, who didn't last long without leading in the score.
A beautiful shrewd ball played into space by Kerr in the 23rd', allowed Gielnik to make a powerful first-time shot, which, somehow, eluded Chilean keeper Natalia Campos at the near post (1-0).
Australia had more chances before the end of the half, from Ellie Carpenter and Tameka Yallop respectively, but both failed to convert, or even, I must say, give a jumpscare to the rival opposition.
In the second half, the game was even more intense than ever. Captain Kerr had a shot saved and the ball rebounded to near the edge of the area where Campos, scrapping for possession, brought the Australian down to give away a penalty. But Kerr's shot from the spot, low to the left, was well-covered by Campos, leaving the hosts 1-0 up at the break despite basking in two-thirds of possession.
So, despite their general dominance, the Australians almost paid a hefty price for their goal-shooting waste. From a dead-ball in the 58th minute, it was the turn for Chile to create some danger: Chile's Daniela Zamora had the only keeper Lydia Williams to beat but her strike was body-blocked by Matildas' goalie. Still, Chile wasn't giving up yet.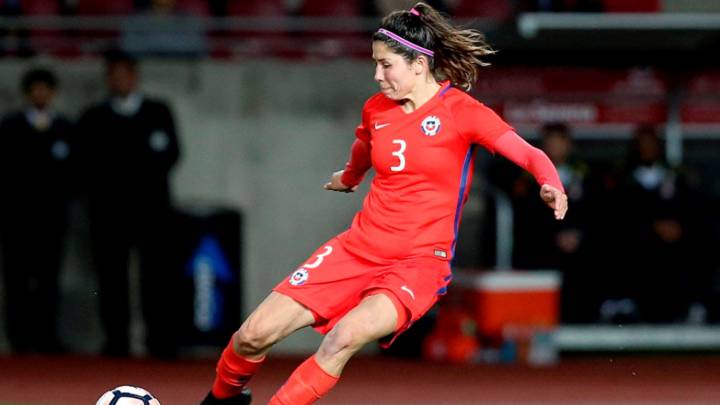 Finally, in the 77′, Williams had a really big mistake when Chilean Carla Guerrero's 25m long-shot almost went in to tie the game, fortunately for The Matildas, the ball got deflected on Kerr, and finally looped toward the goal, hitting the top of the cross-bar.
And that was it! End of the match! 1-0! The Matildas have won! (What else did you expect me to say?)