Drew Spence and Bethany England scored a brace, as the Blues recorded the biggest win of the 2019/20 season to retain their spot at the top of the Barclays Women's Super League table (19 points).
After their "very well-deserved" 5-1 victory over Tottenham Hotspur in midweek, Chelsea went last Sunday to Damson Park to continue their perfect run. Last time Hayes' team was there, they had tied 0-0 against the home team. Yet, this time, the atmosphere was completely different.
Chelsea started the game fast, and in style, and just 2 minutes in, Ji So-Yun netted a spectacular free-kick, which gave the Blues the early lead (1-0). The home side tried with all their effort to create some dangerous chance to their rivals, but… No chance.
It took a bit of time, but finally, in the 37′, Millie Bright scored the 2nd with a well-timed run and finish, having charged out of defense to start the attack, creating a great counter-attack, and score passed Hampton (2-0), who just watched the ball go into the net. Surprisingly, that was also Millie's 1st goal of this 2019/20 campaign.
With the first half almost done, Bethany England joined the party thanks to a dream of a pass from the second's match scorer, controlling the ball first touch and finishing with her second (3-0).
HALF-TIME! (Ok, ok… That took too long. Let's get restarted, should we?)
Within six minutes of the second half, the Blues were already two more goals ahead, making it impossible for Birmingham to do "the miraculous comeback" at home… Or at least, something similar.
This time, both goals came from the English midfielder Drew Spence. One with her right foot and the other with her head, in the 48′ and in the 52′ respectively; Birmingham's dreams were completely crashed.
In the end, England joined the goaling party (again) and scored the final 6th goal of the match, making Chelsea head straight back to the top of the WSL standings, having briefly relinquished their position to Manchester City, who won 5-0 at Bristol. Arsenal won 1-0 against Liverpool, but still not catching up with Chelsea yet.
And that was it. END OF THE MATCH!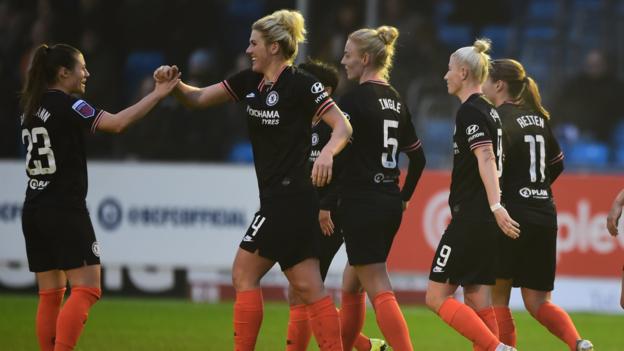 Actually… This was Chelsea's 25th consecutive WSL match on the road without tasting defeat, a run that goes back to May 2017. This Sunday the Blues will go to Everton, where they also drew 0-0 last term. Finally, on the 8th December, it's back to Kingsmeadow for one of the biggest games of the season: Manchester City.
Will Chelsea continue with this "hot streak" or will someone be able to stop them? Only time will tell (After all, the season is long, really long…).