Germany! What a surprise, right?
The Germans, who already won Nigeria in their previous meeting in 2011 by 1-0, have won again against the Falcons yesterday… They just added two more goals to the score. That's all!
Anyways, Germany was a thought opponent, right, Nigeria?
Both teams started the match with 4 new changes, one for Germany and three for Nigeria, compared to their previous games against South Africa and France respectively. Captain Alexandra Popp was in a celebration mood, as she made her 100th appearance for the Die Nationalelf, and clearly, what a better way to celebrate it than going through the next stage of this Women's World Cup?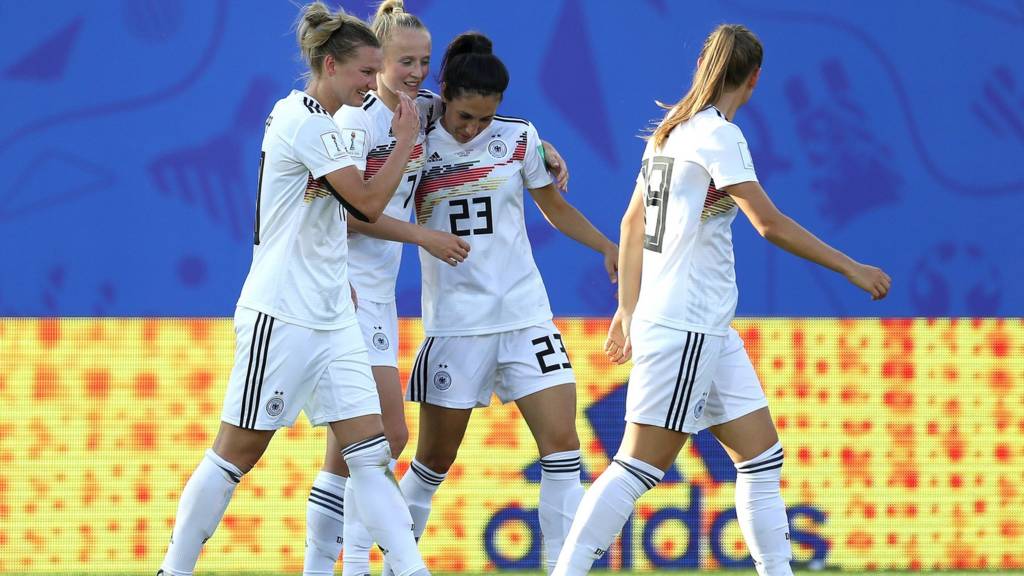 The game couldn't start better for the European side, as just 6 minutes in, Magull had a great chance, after an initial German set-piece play failed, but Nigerian goalkeeper Nnadozie stopped the incredible close-range shot. The Germans kept pushing forward, creating danger in Nigeria's area and trying to score the first of three perfect (but lucky, very lucky) goals. Nigeria's rival grabbed the lead in the 20th minute after the 100th appearance girl appeared to head in a great ball sent from a Magull corner, which passed Nnadozie at the far post. What a way to celebrate her… What was it again?
Something is coming… What is it? It can't be: IT'S IT! VAR IS BACK!
Four minutes after Germany took the lead in the scoring, a great counter ended up with Magull going down onto the penalty area under a rather strange challenge from defender Nwabuoku (Was she practicing for Street Fighter?). It took a few minutes, but finally, the referee decided to coincide the penalty in favor of Germany (with the help of our friendly VAR of course).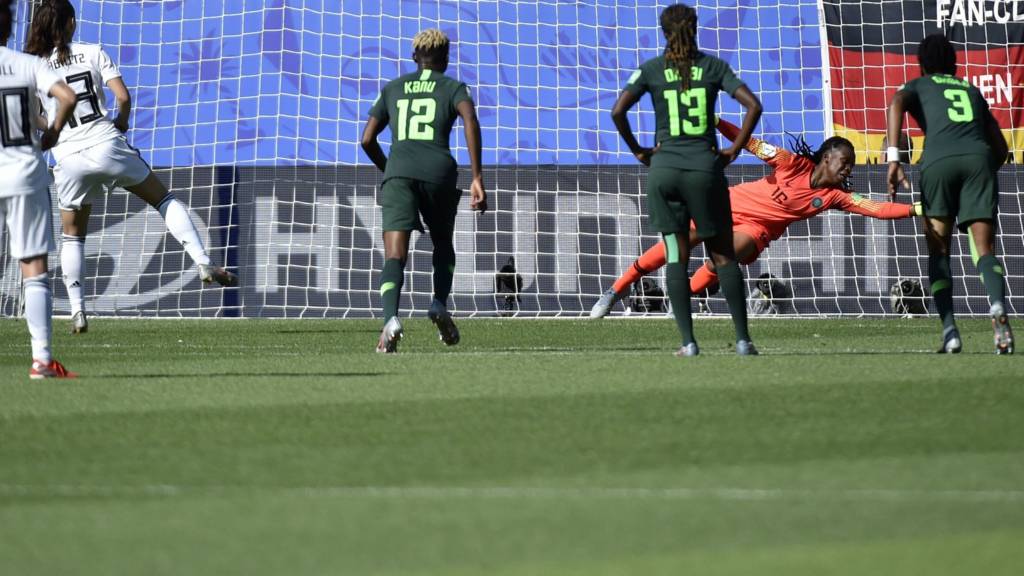 Sara Däbritz was the one in charge of taking it. She stepped up from the penalty spot and powered it into the right side of Nigeria's goal, which Nnadozie, even if she knew where the shot was going, couldn't reach it in time. The Falcons from Nigeria tried to get one goal to get back into the game, but not even VAR was on their favor, after a possible penalty in the last minutes wasn't called. 2-0 at halftime… NEXT! (Before we move on, that half of women's football wasn't the most interesting one, but clearly, there was certainly no lack of talking points.
A lot of substitution for both teams happened in the second half but none of them were relevant to mention. The match continued with lots of intensity, yellows cards, and some injuries. There were no many chances in a game the Germans had already sealed. Finally, Germany completely closed the scoreline with one more goal, after a bad mistake from Nigerian defender Ayinde, who passed the ball back to her keeper, but, unfortunately, the ball was taken by Schüller, who finished a right-footed effort that nicely passed a diving Nnadozie.
Germany was clearly the better side yesterday and, despite the match leaving much to be desired, the Germans leave as winners. Now, with Nigeria out of the competition, Germany goes through the quarter-finals of the tournament, and we'll need to wait until Monday to find out who'll be its next opponent: Will it be Sweden or will it be Canada? Not long to find out. But, that doesn't matter now. Congratulations, Germany!