Arsenal continues to perform, being 2nd place on their race for the 2018/19 Women's Super League title, after winning against Reading Women (6th) this Sunday, 27th January.
It seems that Gunners got back to winning ways, but the win they obtained today was a little bit difficult than it seems on the scoreline.
Reading didn't put it easy for Arsenal, but once Vivianne Miedema (Arsenal Women) scored in under 2 minutes, the former leaders looked on the way for an easy win.
Miedema only needed to find a small space in the box, and there she was, ready to collect a cross from the left, taking the ball down and scored without any difficulty. 
It seemed that the absence of Joe Montemurro, who suffered from an illness (flu) and the presence of Aaron D'Antino taking charge of the side provisionally, didn't affect the team at all. With that goal in the 2′, Miedema made her 16th goal of the season; making her already the highest ever goalscorer in a single WSL season.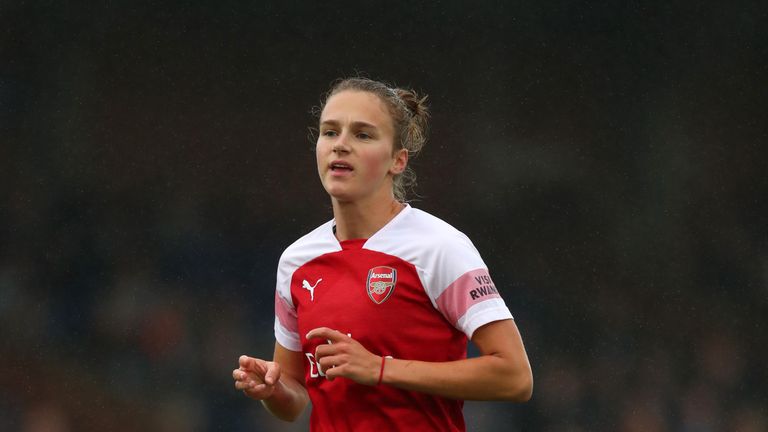 After that, Reading tried to close the gap, dreaming with a comeback; a comeback that was slightly fading away as the minutes were closing to final moments of the match.
It was a hard game, with yellow cards stacking up, and no one giving up the ball, but at the end, it was Arsenal who secured their win with a questionable penalty, in the 81′, awarded for a foul committed by Reading's Jade Moore on Danielle van de Donk. The rest was simple.
Kim Little just stepped up and scored the second goal of the game; low to her right. To finalize, with one minute remaining, Katie McCabe's long-range shot sealed the 3 points and a scoreline that was more difficult to digest for Reading.
Now, with Arsenal securing a vital three points today, they're much closer to come back to the top spot, on their race for the League Title. Currently, they're laying down a marker for fellow title challengers Chelsea (3rd) and Manchester City (1st).
It was also a great day for Miedema, who achieved her record with seven matches still left of the season to play. We'll need to wait to see what happens but clearly, Arsenal Women team are on fire and could be holding the league title in a really near future.